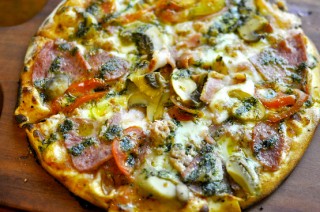 The customer is king, so the saying goes, and what better way is there to follow that than to give them freedom to choose exactly how they want their food prepared? No one knows this better than Shaun Dino, manager at Pizza Republic Pick + Mix by Giuseppe Genco. "First of all, the entire process of making your own pizza right in front of you makes the whole experience different. And we're a local brand, so we have the flexibility to change and tweak things based on what people like or what Filipinos like," he shares. "We let the customers choose their pizza and give their own value to their meal for one amazing price. Our restaurant is also part of the experience. We are coming up with fun ways the customers can interact with our restaurant like our selfie cam and our freedom wall."
Pizza Republic is known for its build-your-own-pizza concept. For only Php 245, you can get a 10-inch pizza and choose among 60 fresh toppings, most of which are imported all the way from Italy—"we like to change up the line-up once in a while so nothing is permanent," adds Shaun. Your pizza is then loaded into their own wood-fire brick oven for that perfectly-charred dough.
The restaurant just opened in June 2014, but it has been getting a lot of raves from bloggers and celebrity chefs alike (Chef Gene Gonzales has named it one of the best restaurants in Cebu!). Early this year, it opened a second store in Bacolod, and soon, we'll be seeing them in Cagayan as well. That's impressive for a restaurant just over a year old!
These are exciting times for Pizza Republic, but for the team behind it, it's time to buckle up. Gladys Decano currently handles payroll administration for 60 employees of the Lahug and Bacolod branches, and it used to take her five days to manage their payroll and make sure that all their working hours are accounted for. At that rate, it would have taken her 10 days to handle two more stores!
"This is why I really like using the system [PayrollHero]; it really made my life easier. I don't have to go to all our other branches to make sure they're running smoothly. I just have to call if there are any problems," said Gladys.
Shaun agrees, saying, "In terms of HR, the hardest thing is being able to keep track on all the people in our second branch. PayrollHero has helped us keep a tab on all the employees in terms of scheduling and attendance. It even gets funny sometimes when they clock in with the selfie cam and you can see a message from one branch saying hi to the other when the picture ends up on the cover page of the app," he laughs.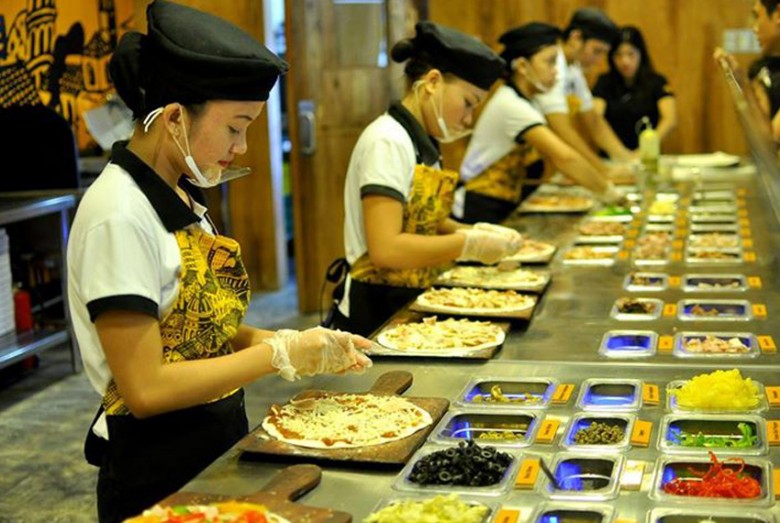 Fast-growing restaurants like Pizza Republic are truly some of the most ideal users of PayrollHero. Since the system is cloud-based, Pizza Republic's HR or management team can access information across their different branches, in real time. They will be able to see if a branch is understaffed for the day, they can manage employees' shifts more efficiently and, if they do need to hire more people, they can add simply add them into the system. It is all scalable, making it much easier to expand in the future. Less time for payroll administration means more time focusing on the food, the customers, and their employees' welfare.
"People shouldn't shy away from technology just because of the possibility that a change will make things harder," stresses Shaun. "I consider the pen and paper as technology. For all we know, PayrollHero or some other form of tech could be the next pen and paper."
If you're in Cebu, make sure to try out Pizza Republic Pick + Mix by Giuseppe Genco along Salinas Drive, Lahug. Check them out on Facebook, Twitter, and Instagram.