Through the years, I've purchased a lot of technology for our companies and for myself. By technology, I am broadly using the term for the software and/or hardware we use. While I'm a big believer in the power of technology, in my experience, technology buying, especially for companies, can be confusing, resource-consuming, and even disappointing. It's not uncommon to be excited about a solution only to be disappointed after purchasing it. It happens so often that there's a name for it: Gartner Hype Cycle.
The Gartner Hype Cycle is a chart that shows the stages a tech buyer goes through, specifically:
Technology Trigger
Peak of Inflated Expectations
Trough of Disillusionment
Slope of Enlightenment
Plateau of Productivity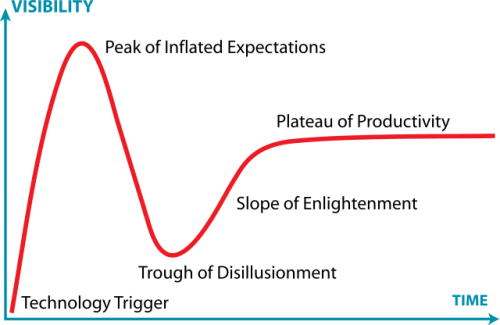 You can learn more about each stage in this article, but I want to focus on 3 things that have helped our companies manage the trough of disillusionment and move towards enlightenment and productivity. (Keep in mind that I'm looking at this from the perspective of a small to medium business. Enterprise-level companies may have more sophisticated requirements.) Here are my three pieces of advice:
Look for a Solution (not a collection of features)
Choose a Partner not a Vendor
Make a Plan not just a Purchase
Look for a Focused Solution
This is counterintuitive to most buyers. It's easy to think that a "better deal" is the one that gives us the most features for the least amount of cost. But this is like buying something we don't need on sale and thinking we got saved money. The reality is this: we don't save any money from purchasing things we don't need, even if we acquired it cheaply. The goal of purchasing technology or a technology service is to help us solve a problem or improve a process. Sometimes, actually many times, what gets in the way of choosing the best solution for our requirements are the bells and whistles we don't actually need. To put this simply: we are easily distracted from our need-to-haves by our nice-to-haves. Instead, I recommend following this process:
Focus on Your Most Important Need(s): Why am I purchasing this? What problem do I need to solve? What risk do I need to mitigate? What process do I want to optimize?
Choose According to Your Most Important Needs: Which solution addresses my priority needs?

Choose a Partner not a Vendor
The Gartner Hype Cycle explains that there is almost always a period where expectations and delivery need to be calibrated. During this phase, it's common to think that we're not getting what we were promised. This is when it is important that we are working with a partner not just a vendor. A vendor is simply out to sell you something, while a partner is out to create value together. Because technology purchases need calibration, it is inevitable that extra work is necessary to fully enjoy the promise of the solution. This is why choosing a partner, someone who you can trust and work with well, is incredibly important. A partner will journey with you through each phase, reassuring you by their responsiveness and expertise that the implementation and operation is going well.

Make a Plan not a Purchase
This is something many technology buyers fail to do when shopping for technology. Ultimately, the benefits of technology are only felt if the solution that is chosen is practicable. We will not enjoy the benefits of high-tech things if we're not able to apply them to our workflows. So it's important to have a plan for the purchase and implementation, but also how we're going to improve user adoption and mastery. This is another reason why  #2 (Choose a Partner not a Vendor) is very valuable. Having a plan and partner beyond the purchase and implementation helps you with adoption and mastery. This way, not only do you get past the Trough of Disillusionment you are able to achieve Enlightenment, which is just a fancy way of saying you're now able to use the technology better.

Final Thoughts
I hope these three pieces of advice help you with your next tech purchase. Happy to answer any questions you may have about purchasing technology for your business. Feel free to email me at david@bridgesoutheast.
For our clients at PayDay, we have focused on providing them Accurate, Secure, On-Time Payroll Processing. We do our best stay focused on those three things. Clients who choose us have identified that accuracy, security, and timeliness are the most important factors for their payroll requirements. That's the solution we offer.
PayDay clients get both the technology (payroll platforms) and a PayDay Partner, someone to guide them through adoption and mastery. This is part of our commitment to clients to help them enjoy Accurate, Secure, On-Time Payroll.
Finally, PayDay Partners work with clients to solve payroll concerns and see how they can work together to improve payroll accuracy, security, and timeliness.

About the Author
David Bonifacio is the CEO of Bridge, a Philippine venture builder focused on the future of work. David also serves as a Director in Bonifacio One and as a Venture Partner in TNB Aura.